Kim Rhode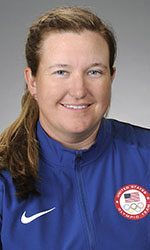 Sport:
Shooting
Discipline(s):
Shotgun Shooting
Event(s):
Skeet
Height:
5-4
Weight:
180
DOB:
7/16/1979
Birthplace:
Whittier, Calif.
Hometown:
El Monte, Calif.
High School:
Arroyo High School (El Monte, Calif.) '97
College:
California State Polytechnic University-Pomona, Food marketing and Agribusiness Management
Kim Rhode is the daughter of Richard and Sharon Rhode. Her father, Richard is her coach. Kim is married to Mike Harryman and they have one son, Carter. Kim was pregnant with Carter while competing at the London 2012 Olympic Games.
Her father's side of the family has relatives who fought in the infamous battle, Custer's last stand, and her mother's side had relations to Samuel Morse, the inventor of Morse code. Rhose is a member of Safari Club International and an honorary lifetime member of the NRA. Her hobbies include collecting and restoring antique cars and first-edition children's books.
Kim got her competitive start in American Skeet at the age of 10. After winning the World Championship at age 13, she became captain of the All-American Team. This opened the door to the Olympic style of International Double Trap and International Skeet. She has captured 14 National Championship gold medals since making the National Team in 1995. Kim's career also includes 34 medals in international competitions including five Olympic medals.  She is the first U.S. Olympian competing in an individual sport to win five medals in five consecutive Olympic Games.
Taking time off after her success in the 2004 Olympic Games, Rhode returned in 2006 with a new focus: the Women's Skeet event. Women's Double Trap was removed from the Olympic Games following the 2004 Games in Athens. Rhode successfully pocketed a silver medal at the 2008 Beijing Games in Women's Skeet. She became the first American individual athlete to win a medal in five consecutive Olympic Games in 2012.
Kim is on the Board of Directors of the Kids & Clays Foundation which utilizes a national series of sporting events to raise funds for Ronald McDonald House Charities, helping critically ill children and their families.  She also serves as the Kids & Clays national spokesperson.
She is a member of the Safari Club International and an honorary lifetime member of the National Rifle Association. Kim keeps busy with training, public speaking, shooting demonstrations, skiing and hunting, and is an avid builder and restorer of antique and muscle cars. She also collects 1800's and 1900's first edition children's books, her favorite being The Wizard of Oz series.
Kim's Shooting Accomplishments
Olympic Experience
Six-time Olympian (1996, 2000, 2004, 2008, 2012, 2016); Six-time Olympic medalist (3 golds, 1 silver, 2 bronze)
Rio 2016 Olympic Games, bronze (skeet)
London 2012 Olympic Games, gold (skeet), 9th (trap)
Beijing 2008 Olympic Games, silver (silver)
Athens 2004 Olympic Games, gold (double trap), 5th (skeet)
Sydney 2000 Olympic Games, bronze (double trap), 7th (skeet)
Atlanta 1996 Olympic Games, gold (double trap)
In 2012, became the first American athlete, male or female, to win an Olympic medal at five consecutive Games in an individual sport
Only woman to win three individual Olympic gold medals in shooting (as of 2012)
First Olympic shooter, male or female, to compete in all three shotgun events – trap, double trap and skeet
In 2016, became the first American to qualify for the Olympic Games in five different continents
World Championship Experience
Most recent: 2015 – 16th (skeet)
Years of participation: 1995, 1997-99, 2001-03, 2007, 2009-11, 2014-15
Medals: 3 (1 gold, 1 silver, 1 bronze)
Gold – 2010 (skeet)
Silver – 1998 (double trap)
Bronze – 2011 (skeet)
Other Career Highlights
2015 Pan American Games, gold (skeet)
2011 Pan American Games, gold
2010 World Championships, gold
2007 Pan American Games, silver (double trap)
2003 Pan American Games, gold (double trap)
1999 Pan American Games, gold (double trap)
Three-time national champion
Three-time USA Shooting Female Athlete of the Year (2007-09)