Kim Rhode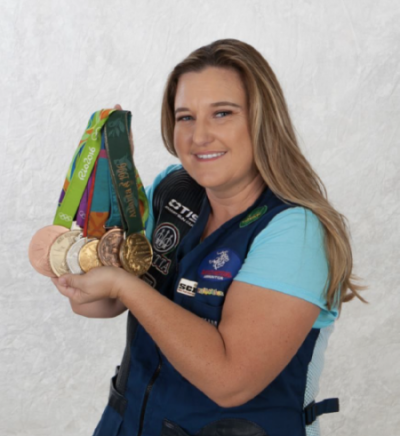 In sport, there is no such thing as a sure thing, but Kim Rhode is about as close as one can get. Kim has won a medal in each of the last six Olympic Games, including winning her third Olympic Gold Medal in London at the 2012 Games by hitting an astounding 99 out of 100 (moving) targets.
Kim's Olympic career began by winning gold in 1996 at just 17 years old and in Rio she became the first female Olympian to win an Olympic Medal in six consecutive Olympic Games. And, she has no intention of stopping there. Kim expects to compete,"…for another four or five Olympics."
Kim's Bronze Medal in Rio is perhaps her most impressive yet. She had to overcome many health and personal challenges just to be in Rio. Then, in Rio, Kim faced not just one, but two sudden death shoot-offs en route to winning her historic sixth consecutive Olympic Medal.