Rhode, Sanderson Earn USA Shooting Athlete of the Year Honors
COLORADO SPRINGS, CO
USA Shooting is proud to announce six-time Olympic medalist Kim Rhode and three-time Olympian Keith Sanderson as its 2017 Female and Male Athletes of the Year.
Athlete of the Year awards were determined from a points system where points were earned based on finishes at competitions throughout the year.
Six-time Olympic medalist Kim Rhode earns her fifth Athlete of the Year honors. Photo courtesy of ISSF.With a year that saw so many stellar performances from USA Shooting Team athletes, it took the near-Herculean task of winning two International Shooting Sport Federation (ISSF) World Cup gold medals, one ISSF World Cup silver medal, a fourth-place finish at the ISSF World Championship and finishing off the year by winning the ISSF World Cup Final to earn to earn Rhode (El Monte, California)the distinction of USA Shooting Female Athlete of the Year.
"It's a great honor and very humbling," Rhode said of winning her fifth USA Shooting Female Athlete of the Year title. Rhode also received the honor in 2007, 2008, 2009 and 2012. She was named 2016's USA Shooting Female Shotgun Athlete of the Year.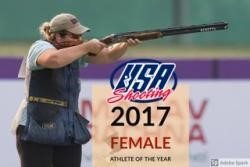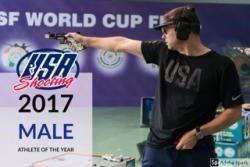 Rhode's greatest competition for the year's top honors came from within her own discipline as Dania Vizzi (Odessa, Florida) had a year more than worthy of earning Athlete of the Year accolades. Vizzi became World Champion in September by topping a world-class Finals field that featured two of the three most recent Olympic medalists including champion Diana Bascosi and Rhode. Success at the World Championships is nothing new to Vizzi having now medaled in each of the last four World Championships. Vizzi also won the National Championships while also being a finalist at World Cup Larnaka and ending her successful year with a bronze medal at World Cup Finals.
After becoming the first Summer Olympian to win six medals in six straight Olympic appearances following a bronze-medal performance at the 2016 Olympic Games in Rio de Janeiro, Brazil, it would have been easy for Rhode to rest on her proverbial Olympic laurel wreath, but that's never been an option the year following the Games for Rhode.
"I haven't deliberately taken any years off after the Olympics," she said. "It is a lot easier to maintain my shooting at a certain level rather than having to build back up because I didn't train."
With so many highlights to choose from, when pressed, Rhode said that her shoot-off with Olympic champion Bacosi of Italy to win the World Cup Final topped them all.
"The World Cup Final is the crème de la crème of competitors and by invitation only. You have to be at the top of the game to be invited. To be competing with that talent and get into a shoot-off and go 22 straight in doubles, it doesn't get much better."
Three-time Olympian Keith Sanderson earns his second Athlete of the Year honors. Photo courtesy of the ISSF.Sanderson (Colorado Springs, Colorado) earned the distinction by winning gold at the International Shooting Sport Federation (ISSF) World Cup Final. Sanderson finished the Final with 33 hits, just one away from the current World Record. Earlier in the season, the Rapid Fire Pistol specialist and three-time Olympian also won silver at the USA Shooting National Championships and finished in sixth place at the ISSF World Cup in Gabala, Azerbaijan. He picked up the air pistol to compete at the recent Winter Airgun Championships and finished fourth overall while winning the Day 2 Final.
Sanderson was also named USA Shooting Athlete of the Year for Pistol in 2014 and 2015 and Male Athlete of the Year in 2009.
"I'm really happy to receive this award, and very humbled by it too," Sanderson said. "Every World Cup for me is training for the Olympics to have a consistent performance. I'm training for the Qualification and a Final and I'm happy to see that I'm closing in on how to do that better and get good at both. Pistol needs a role model right now so people can see that we can win. When more people in this country see they have a chance, we'll get more people shooting pistol and we're more likely to get someone winning an Olympic gold medal."